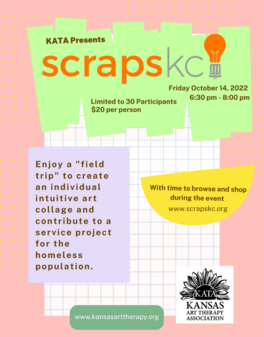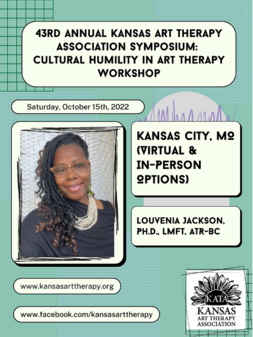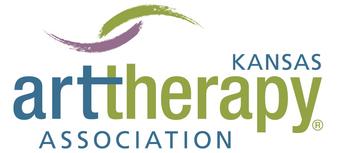 ​
43rd Annual Kansas Art Therapy Association Symposium:

Cultural Humility in Art Therapy Workshop




OPTIONAL PRE-SYMPOSIUM EVENT: Friday evening, October 14, 2022



ScrapsKC (scrapskc.org)

3269 Roanoke Road, Kansas City, MO 64111

​








ScrapsKC's mission is to care for Kansas City's environment, education, and homeless through creative reuse. Since their founding in 2016, they have diverted over 12 tons of materials from the landfill. They reuse, repurpose, and renew donated used and excess supplies and materials that are sold in their store and used in a variety of classes, workshops, festivals, and for drop-in creations. Volunteer opportunities are available for the homeless population.

Masks are required while indoors and it is strongly recommended that participants are vaccinated.


CULTURAL HUMILITY IN ART THERAPY: SATURDAY, OCTOBER 15 (8:30 am-5:15 pm)



Grace and Holy Trinity Cathedral

415 West 13th Street, Kansas City, MO 64105









The workshop will introduce characteristics and applications of cultural humility, and address concepts of power differential and privilege. Participants will examine the intersection of art therapy and cultural humility in professional practice, and build personal and professional awareness and accountability. Highlights will include investigation of 1) personal biases;

2) assumptions and beliefs that impact cultural lenses; 3) critical approaches to interpersonal communication, and 4) principles of equitable dialogue.


Objectives:

Participants will be able to identify characteristics of cultural humility and cultural identity that may surface in the clinical setting/therapeutic space.
Participants will be able to implement strategies to address complex issues related to diversity within cultures.
Participants will create self-reflective work that will help them identify personal biases and obstacles to compassion.

Masks are required

A table of art supplies will be available to use for art-based experiences.

You are welcome to bring additional art supplies (except glitter!) for personal use.

Keynote Presenter

Anti-racist art therapy and multicultural humility in art therapy are pressing contemporary issues in the profession of art therapy. Dr. Jackson is a content expert. Louvenia Jackson, Ph.D., LMFT, ATR-BC is an assistant professor at Loyola Marymount University in the Graduate Department of Marital Family Therapy and Art Therapy. She received her MFT and Ph.D. from Notre Dame de Namur University's Art Therapy Program. She serves on the American Art Therapy Association's Board of Directors.

Dr. Jackson's work on cultural humility in art therapy education earned her the May 2016 Outstanding Service Award from NDNU's Art Therapy Psychology Department Ph.D. Program, the American Art Therapy Association's 2016 Pearlie Roberson Scholarship, the 2020 Loyola Marymount University Ascending Scholar Award, and the Southern California Art Therapy Association Distinguished Service Award 2021. Also in 2021, Scholastic Art Magazine featured Dr. Jackson and her work.

Dr. Jackson co-edited a book chapter titled "Wisdom through diversity in art therapy" (2018). With Anthony Bodlovic she co-authored "A cultural humility approach to art therapy multicultural pedagogy: Barriers to compassion" (2018) in the International Journal of Diversity in Education. In 2020, Dr. Jackson published Cultural Humility in Art Therapy: The Balance of Creativity, Introspection and Advocacy.

IN PERSON AND VIRTUAL OPTIONS:

The speaker will be conducting the symposium virtually through Zoom. Join us in person in Kansas City, MO to view it together or view it on your own. If you attend in person, the presentation will be projected with the sound system integrated into the room, but you can bring your own device as well. Please make sure your devices are fully charged. If you choose the virtual option, you will receive emailed instructions for the Zoom session after your registration fee has been received.

Zoom sessions will be recorded and available by email request only for those who attend the symposium. Contact Teresa Zaiger, kansasarttherapy@gmail.com or (816)898-6153.

COVID-19 Safety Measures:

We want the in person event to be safe for everyone. Masks are required to wear while indoors and it is strongly recommended that participants are vaccinated. Seating capacity within the facility will provide for social distancing. Should the risk level cause us to cancel, they symposium will be converted to online. Should that happen, individuals registered for the in person event may request a full refund if they decide to not participate in the remote event.


Book table:

Please bring any books and professional journals that you would like to sell or give away. Book topics may include art therapy, art history, artists, art movements, fine art techniques, craft projects, social work, psychology, mental health, etc. Please label each item with a price or indicate if they are free; include your name on any items for sale. Place your name on one of the envelopes, provided at the table, for money collection. Don't forget to bring cash to purchase books!

Art supply table:

Participants are invited to bring art supplies they would like to pass onto fellow art therapists. Do not bring glitter (cathedral rules). These supplies will be offered for free. Bags will be provided. Any left-over supplies will be donated to ScrapsKC


Boxed lunches will be provided by Ruby Jean's Juicery (www.rubyjeansjuicery.com)

Please email your lunch choices (below) and any food allergies to Teresa Zaiger at kansasarttherapy@gmail.com



Choose one from each category:



1) Each of the following can be made into a sandwich or a wrap so please specify (Gluten-

free bread is also available upon request):

Truly Turkey Blackened Chicken Blackened Salmon

Vegetarian Chicken Pest Turkey Bacon (Lettuce, Avocado, Tomato)



2) Sides (all Gluten-free):

Pasta Salad Loaded Green Salad Baked Sweet Potato Salad

Fresh Cut Fruit Quinoa Salad



3) Dessert (all Gluten-free):

Fresh Cut Fruit Protein Rounds Sweet Potato Brownies Vegan No Bake Cookies





Registration

Optional Pre-Symposium Friday Night Event: ScrapsKC, Friday, October 14, 2022 (Limited to 30 participants)


KATA Member, Non-KATA Member, or Student: $20.00


To register, go to http://bookwhen.com/kansasarttherapy

Select: "Friday Night Event: ScrapsKC"


Symposium: October 15, 2022

In person Virtual:

KATA Member $50.00 $70.00

Non-KATA Member $75.00 $95.00

Student KATA Member $25.00 $45.00

Student Non-KATA Member 40.00 $60.00

To register, go to http://bookwhen.com/kansasarttherapy

Select: "43rd Annual KATA Symposium: Cultural Humility in Art Therapy Workshop"


NOTE: The day of the seminar is also the day of the Garmin KC Marathon (7:00 am to 12:00 pm). Please allow extra time to get to the symposium in the morning if attending in person. Check online to view the map of marathon routes.